Achieving the goal with the right methods.
Our work is based on sociological and economic methods. The Prognos toolbox contains both tried-and-tested and innovative tools. Also Data Science is part of it. One thing all our methods have in common: they are scientifically sound and reliable.
Unique: the Prognos models.
Reliable analyses and forecasts up to 40 years into the future – this is what Prognos stands for. For this, our experts have developed specific high-performance instruments: the technical-economic Prognos models. They allow us to answer very different, challenging system-related questions in the fields of economics, social welfare, energy and transport.
A selection of our methods.
Data Analysis/Data Science
Quantitative and econometric analysis and evaluation of national and international official statistics and representative data sets (e.g. micro-census and the socio-economic panel [SOEP])
Web crawling analyses with the Prognos Crawler
Further Big Data analysis tools
Graphical and interactive processing of complex data
Surveys
Delphi surveys
Panels
Online surveys
Interviews and technical discussions with experts and stakeholders
Workshops & Moderation
Design and facilitation of online, hybrid and on-site meetings
Workshops with strategic and implementing actors
Focus groups
Large group moderation
Design thinking workshops
Graphic recording
Evaluation & impact analyses
Economic feasibility studies
Cost-benefit analyses
Implementation and environment analyses
Theory-based impact analyses
Target achievement and impact monitoring
Counterfactual or comparative impact analyses
Organisational analyses
Environment analyses
Process visualisation
Staffing needs assessment
Project planning, project management & monitoring
Road mapping
Risk and sensitivity analyses as well as opportunity-risk assessment
Programme and project data monitoring
Prognos Models
The technical-economic Prognos models can be interlinked depending on the question and make interdisciplinary aspects of a topic visible. This graphic shows how the models are interlinked:
A larger screen is required to use this interactive map of our models (display size from 1300px width). If you have a specific question about our models, please use the contact form below.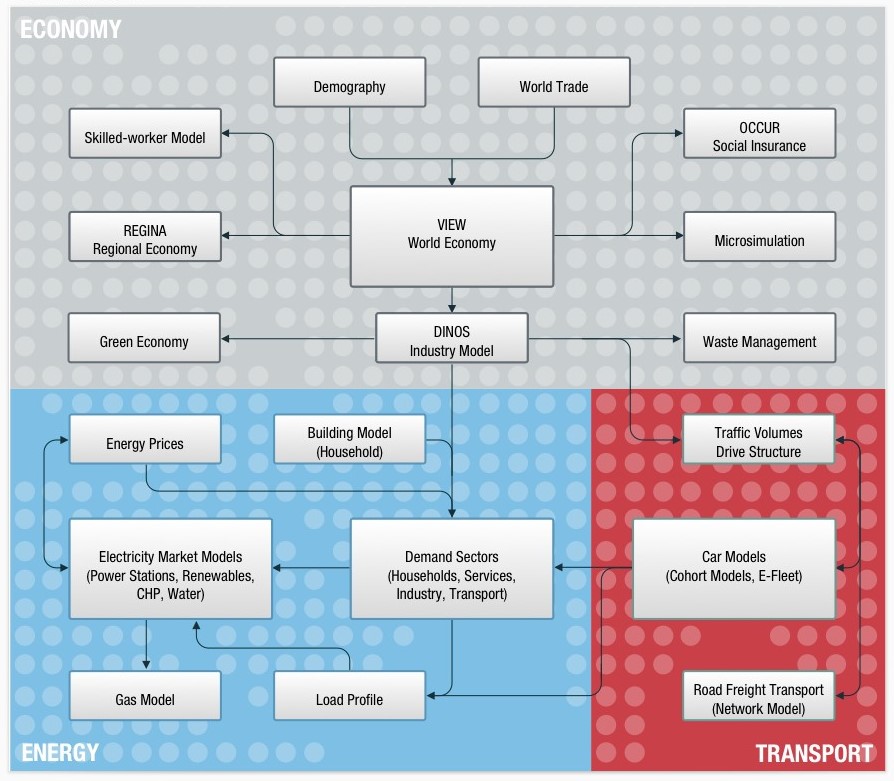 The strengths of our models
Refined. Over 40 years of model work have shaped our model portfolio into what it is today. The Prognos models successfully compete with other models from science and consulting.
Interlinked. Our sub-models can be linked with each other depending on the issue at hand and thus depict interactions as well as overarching and integrated aspects.
Scientific. Our modelling is based on precise knowledge of how the respective segment and its dynamics work.
Tried-and-tested. We have been using models for decades, dealing with recurring issues. This allows us to check the results retrospectively and to constantly refine our models.
Resilient. We map the interactions and dynamics in the respective segments with well-founded arguments and underpin our results with sensitivity calculations.
Flexible. New questions require new approaches. Our models are modular to a large extent and can be extended or adapted to specific questions.