On behalf of ZDF, we have examined the external living conditions for families and senior citizens in Germany's 401 districts and independent cities. Based on statistical data from various fields of life, the two new editions of the ZDF Germany Study provide guidance on where the general conditions for families and older people are particularly good and in which regions there is potential for improvement.

Preferences shift with starting a family and increasing age – the large ZDF Germany Study 2019 takes this into account. Where is the best childcare? Where can older people spend their free time in a particularly varied way? Prognos experts have statistically recorded these and many other criteria on behalf of ZDF and compiled them into regional rankings.

The results were presented in two 'ZDFzeit' documentaries and supported with exciting background knowledge.
To the ZDF Germany Study (in German, zdf.de)

Background paper on the ZDF Germany Study 2019
The most important results, location rankings and methodology of the ZDF Germany Study 2019 – compiled for you in a PDF brochure.

Background paper on the ZDF-Deutschland-Studie 2019 (in German, PDF to your e-mail inbox)
Methodology of the ZDF Germany Study
Our mission: To measure the living conditions for families as well as older citizens in Germany in a way that makes all 401 districts and independent cities directly comparable with each other. To do this, we chose a quantitative approach based on objective, statistically high-quality data.
We measure the areas of life that are particularly important for these two population groups using individual indicators. For each indicator, a region can achieve a score between 0 and 10 points – 0 points indicate the counties and cities that perform worst in the respective indicator, 10 points for the counties and cities that perform best.

Transparency is paramount: for each criterion and region, the respective value, as well as the source, can be viewed publicly.

Subjective desires and various demands of the individual are explicitly not recorded in the studies. Rather, living conditions in all 401 districts and independent cities in Germany are measured. On the interactive website of the ZDF, however, it is possible to make your own weightings.
Criteria for families
These 20 indicators from four fields of life of families have been included in the evaluation of the regions (in German):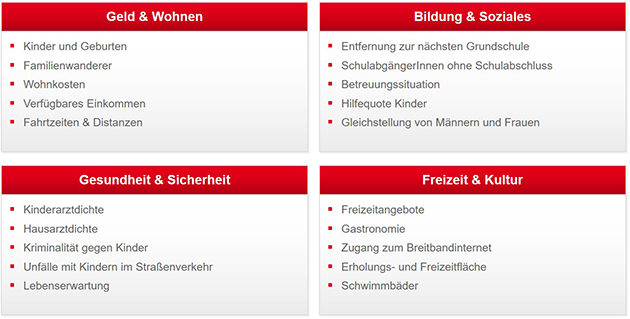 Criteria for senior citizens
For people of retirement age, some of the factors that determine good living conditions are different from those for families. These 20 indicators have been included in the evaluation of the regions for senior citizens (in German):
Answers to the methodology can also be found in our extensive FAQ (in German, PDF, 23 pages).
Results
Where do families live particularly well, and where are living conditions particularly pleasant for the elderly? Are there regional trends and how much do living conditions differ for the two groups from the city to the country?
With interactive maps and two 'ZDFzeit' documentaries, ZDF has prepared the results of the Germany study (ZDF website) for families, senior citizens and the elderly for you. On the ZDF website (in German), the results can be individually weighted according to individual indicators.
Core results for families
To evaluate regional living conditions for families, we use indicators from the areas of money & housing, education & social affairs, health & safety, and leisure & culture.

Almost everywhere in Germany, there are districts and cities where families can live well. The top 20 regions include regions from almost all points of the compass – in southern Germany, housing conditions for families are good in Baden-Baden and Starnberg, for example, in the centre in Suhl, in the west in Bonn, for example, and in the east in Potsdam, for example. Good values are also achieved by some regions in the north, especially Oldenburg, Hamburg and the district of Harburg.

There are neither counties that are ahead in all areas of life for families nor counties that are behind everywhere.

Regions in the environs of large cities and metropolitan areas do particularly well. These include, for example, the Hochtaunuskreis and Main-Taunus-Kreis (Rhine-Main area/Frankfurt a. M.), the area surrounding Munich (Starnberg, Munich district) or Potsdam (near Berlin).

Many urban centres in more rural regions do well. The reasons: good infrastructure and short distances, e.g. in Suhl and Jena.

In very rural regions, conditions for families could be improved – especially if nearby centres are lacking, e.g. in Brandenburg (e.g. Ostprignitz-Ruppin, districts of Uckermark or Prignitz) or Mecklenburg-Western Pomerania (e.g. Ludwigslust-Parchim).
Core results for seniors
We measure the regional living conditions of seniors using indicators from the areas of health & care, housing & leisure, safety & infrastructure, and economy & demographics.

Elderly people find good living conditions in many small to medium-sized cities – especially in eastern German centres.

Catchment areas of major cities perform better than average, especially in comparison with the respective major city. The surrounding areas of large cities offer diverse, easily accessible recreational opportunities - without the burdensome housing costs of large cities.

Regions in Baden-Württemberg and Saxony achieve above-average results almost across the board, while districts in Mecklenburg-Western Pomerania, the Eifel region and the Bavarian countryside tend to score lower. These regions have measurable weaknesses in (healthcare) infrastructure in particular.

The living conditions are quite good everywhere, and the opportunities and offers are diverse. This produces quite surprising results. For example, the district of Mülheim a. d. Ruhr performs better in the overall ranking than Munich (city).
More results
We have compiled more results on the individual living fields and information on methodology and indicators for you in a background paper (in German, PDF in your e-mail inbox).
Are questions still open?
Here you will find answers to the most important questions about the ZDF Germany Study 2019.
Do you have questions?
Your contact at Prognos
About us
Prognos – Providing Orientation.
Prognos is one of the oldest economic research centres in Europe. Founded at the University of Basel, Prognos experts have been conducting research for a wide range of clients from the public and private sectors since 1959 – politically independent, scientifically sound.
Learn more