"An ambitious climate policy by 2030 is a prerequisite for a climate-neutral Germany by 2045."
Marco Wünsch, Principal
On the way to climate neutrality – as the study Climate Neutrality 2050 already showed – it is an ambitious but achievable interim goal for Germany to reduce greenhouse gas emissions by 65 percent compared to 1990.
Three steps to climate neutrality
A climate-neutral Germany is already possible by 2045. Compared to the current target year of 2050, this would mean almost one billion tonnes CO₂-equivalent less in the atmosphere. With such a target, Germany would once again become an international pioneer in climate protection and a lead market and lead provider for climate protection technologies.
A reduction target of 65 percent by 2030 is suitable as a milestone on the path to climate neutrality in 2045 and creates the conditions for an accelerated transformation after 2030.
Compared to the target year of 2050, climate neutrality in 2045 means more speed in structural change. In the expansion of renewable energies (RE), in climate-neutral industry and the switch to heat pumps and electric mobility, the transformation will be accelerated after 2030. In addition, the agricultural transition and the use of CO₂ capture and storage (CCS) will be brought forward.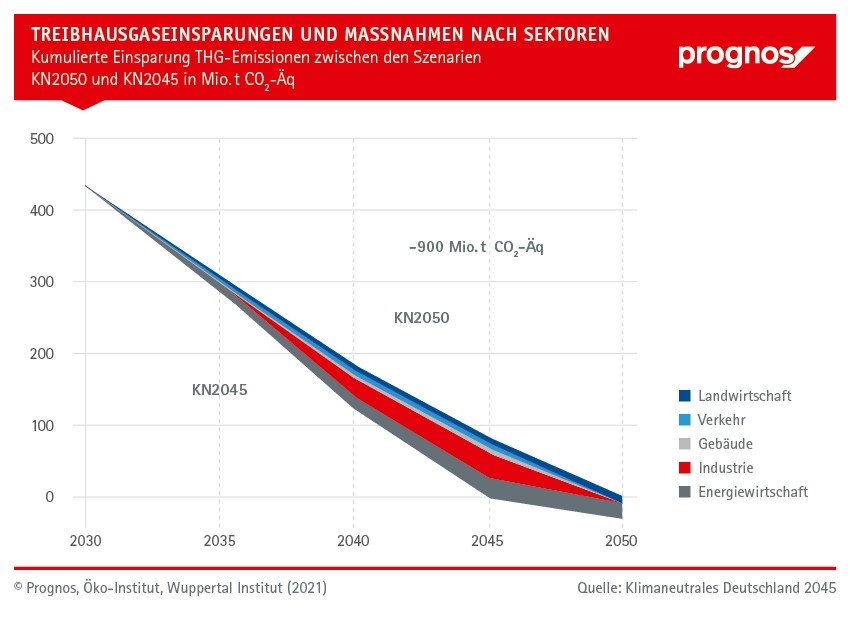 Background
The study Climate-Neutral Germany 2045 was commissioned by the Climate Neutrality Foundation, Agora Energiewende and Agora Verkehrswende.
Prognos was in charge of the overall design of the scenarios in this study and was responsible for the overall project management. Prognos was also responsible for the building and energy sectors. The Öko-Institut was responsible for transport, agriculture, waste, land use and forestry. The Wuppertal Institute was responsible for the industry sector.

Summary of the study "Towards a Climate-Neutral Germany" (Website Agora, English)
Long version of the study (Website Agora, German)

Authors: Hans Dambeck, Florian Ess, Hanno Falkenberg, Dr. Andreas Kemmler, Dr. Almut Kirchner, Marcus Koepp, Sven Kreidelmeyer, Sebastian Lübbers, Dr. Alexander Piégsa, Sina Scheffer, Dr. Thorsten Spillmann, Nils Thamling, Aurel Wünsch, Marco Wünsch, Inka Ziegenhagen, and others from Öko-Institut e. V. and Wuppertal Insitut für Klima, Umwelt, Energie gGmbH
About us
Prognos – Providing Orientation.
Prognos is one of the oldest economic research centres in Europe. Founded at the University of Basel, Prognos experts have been conducting research for a wide range of clients from the public and private sectors since 1959 – politically independent, scientifically sound.
Learn more